Helpful Info
Here is some helpful information that we recommend to read before attending event:
Categories published on sportticketsoffice.com can be desribed as follows:
Category 2 - Short side seats, anywhere behind the goal (not restricted view)
Category 1 - Long side upper tiers seats with good view over the stadium (not restricted view)
VIP Gold - Long side lower tier seats with excellent view over the stadium and close to the green
For high profile fixtures Central blocks on Long Upper tier may be supplied as a substitute to client as VIP gold Category.
Any Category that have Premium next to it means that seats will be reasonably centrally positioned and will have best view from selected category
Hospitality - includes match ticket with food, beverages and other extras. Subject to availability, please contact us to confirm.
Any other category advertised will be published along with description and price. If you are looking for specific block, vip box, balcony seat or other, please contact us and we will be glad to assist!
All tickets will be posted or emailed to you 1-5 days before the match date.
There are various delivery methods we can offer:
Clients based in UK will receive their tickets via Royal Mail Special next day delivery, tracked and signed, that will require a signature upon arrival. Non-UK customers will receive their tickets either via DHL, UPS or FedEx, or can be delivered to the hotel they are staying at in the UK to guarantee timely delivery.
The tickets can either be delivered to the domestic address or any hotel in UK. SportTicketsOffice will dispatch the tickets to an address stated by the buyer in the Shipping address field.
In case you wish for the tickets to be delivered to the hotel, it is important to notify hotel staff that you are expecting a delivery under your name, so they can accept it on your behalf. Shipping address can be amended up to 7 days before event. If you don't have a UK address at the moment of purchase, you can enter another address and update it later by emailing us.
Please kindly double check that you enter full and correct shipping address so we can guarantee that you will receive your post on time!
We charge a fixed amount of 30% per order (not per ticket) for service, delivery, processing and handling costs no other hidden fees or charges.
Please never presume your order is cancelled or voided simply because you haven't received an confirmation email. Practically, it's likely your order/ booking has gone through the system and the confirmation email is in your junk/spam box or lost in cyberspace and we're re-arranging that email and preparing your tickets for delivery. Please contact us if it's not known if your booking has been confirmed and paid for or not. Online orders placed over the weekend or after business hours may not be processed until the next business day.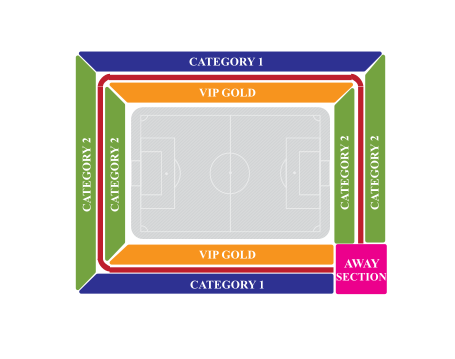 CATEGORY 1 - long side upper tier seating with good view over the stadium
CATEGORY 2 - short side, any behind the goal seats, clear view
VIP GOLD - long side lower tier seating with excellent view over the pitch
CLUB SEATS - executive middle tier seats, great view over stadium
AWAY SECTION - seats with visiting team supporters